The 12 Days Of Christmas
It truly is the most wonderful time of the year, a time that brings families and friends together to celebrate the festive season, exchange gifts and indulge in delicious foods and drinks.
However, not to risk sounding like the Grinch, but the festive season can be stressful, especially if you are trying to stay healthy. From family gatherings to catching up with friends and attending Christmas parties, it's highly likely that you will also be facing the never-ending temptation of countless mince pies, cakes and chocolates, not to mention plenty of festive drinks.
This is where I come in – your festive fairy godmother – to help you with my 12 top tips on staying healthy and enjoying the festive season. You really can do both!
Think of each tip as a gift of self-love that you give to yourself in the run up to Christmas. They're simple and easy to follow, and almost like a 12-day advent calendar without all the sugar and nasties.
Wondering how this works?
Over the 12 days, I will present you with a simple daily task on our blog post. Give each one a go and if it works for you, keep doing it. I promise they are hassle-free; there's no diet plan or 'regime'!
These are just simple, tiny, baby steps which will help get you through the festive season feeling your absolute best! These tips are so wonderfully simple and effective that they even have the potential to become a part of your everyday life – try them and see!
Make it even more fun?
Seeing as it's the season for giving, why not share the gift of self-love and get your friends and family involved?
Join the rest of our tribe and take part in the festivities on Facebook, Twitter and Instagram, remembering to use and watch out for the hashtag, #12DaysOfChristmas!
I'm sure you will love the 12 tips and see just how simple it is to weave these action points into your daily life. Let me know how you get on – you can check in via social or leave a comment below at any stage!
Here's to a happy and healthy festive season! Now please do share and grab your buddies!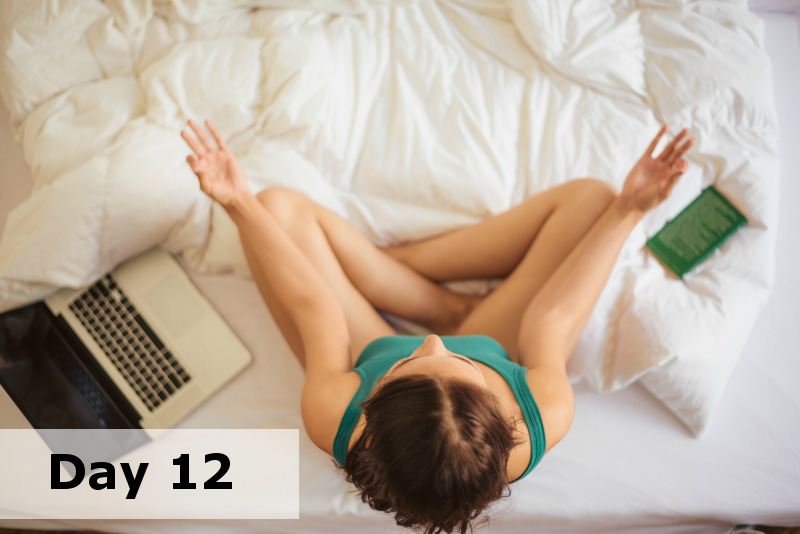 Take a minute. Breathe, meditate, centre your thoughts at the beginning of the day and every time you feel things heading off the rails. The festive season can be a busy and overwhelming time, proceed with a clearer mind and you're bound to make better decisions.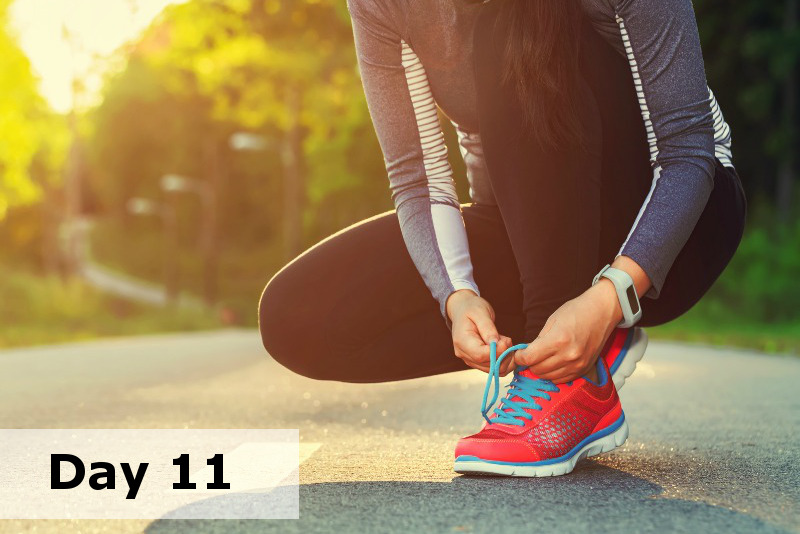 Sweat it out. Get your blood pumping and set aside some me time. Gift yourself with an hour or even just 30 mins of wonderful physical activity as often as you can. Be it walking, running, swimming, cycling, yoga, pilates or whatever it is you enjoy just be present and focus, a workout truly is a wonderful way of escaping the hustle and bustle and releasing some of those feel good endorphins – and working off that mince pie!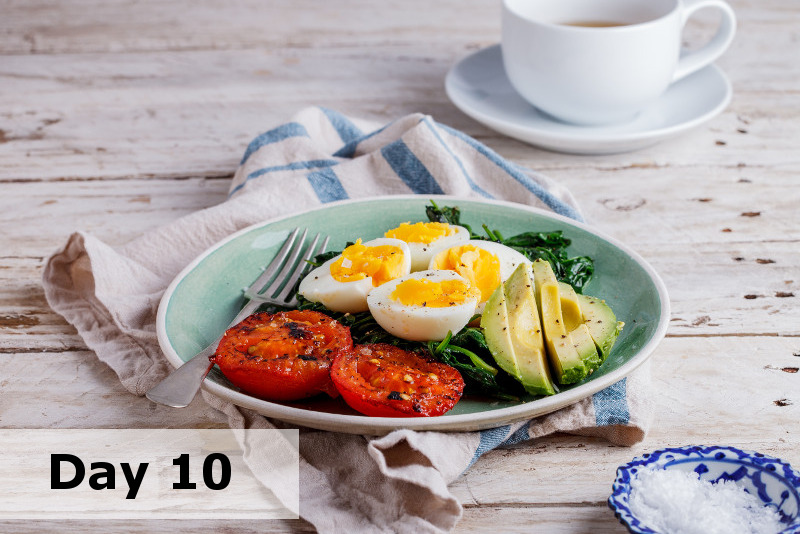 Protein for breakfast. The festive season is the time to indulge, unfortunately, many of us tend to tip the scales and over-indulge. Breakfast sets the tone for the day ahead when it comes to eating. Having a protein rich breakfast will not only get you off to a good start but it will also keep those blood sugar levels stable and keep you feeling fuller for longer – and hopefully save some sugary festive snacks from your ravenous attack.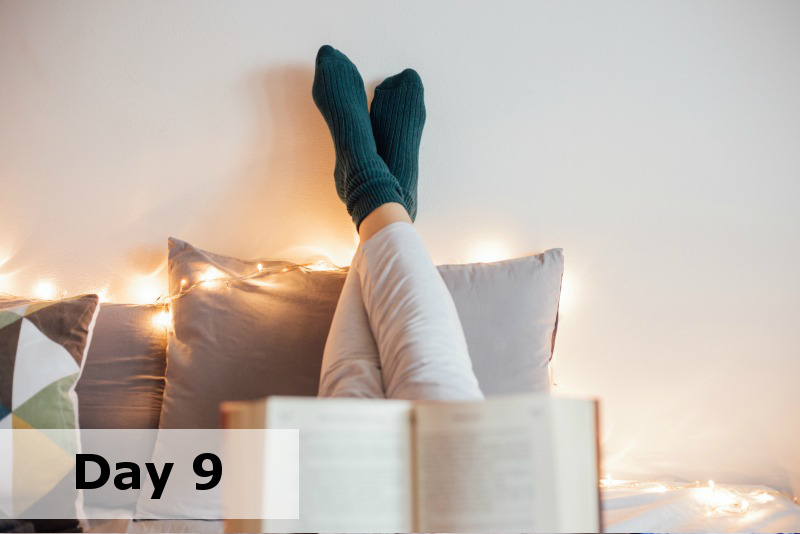 Keep it 80/20. My 80/20 rule should still be your mantra this holiday season and you can apply it to more than just eating. The festive season is a busy and often demanding time, get wrapped up in the hustle and bustle of shopping, organising, wrapping and preparing but remember to set aside 20% of your time to step back and relax. Enjoy it. Let someone else stuff the Turkey.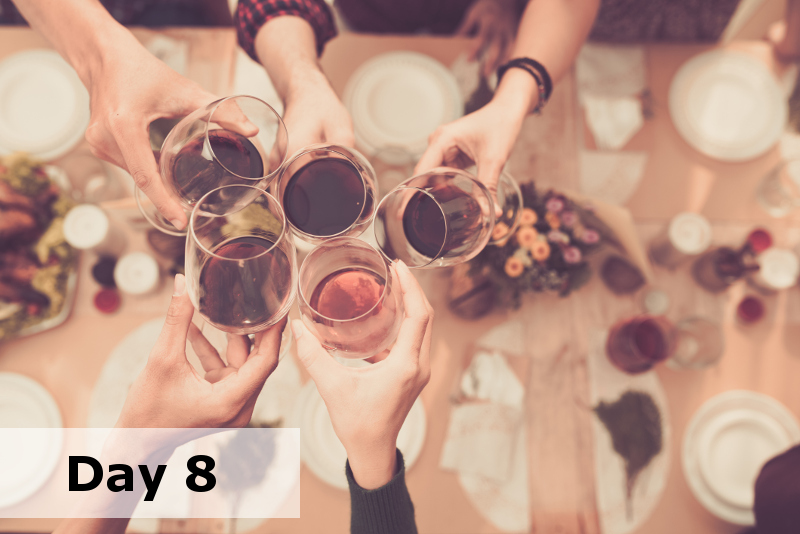 Hydrate. With full social calendars and drinks flowing freely it is more important than ever to stay hydrated. Enjoy a festive tipple but remember to show your liver some love and alternate each drink with a glass of water, this will also likely reduce the amount you drink over the course of the night which means you might not have to borrow Santa's suit after all.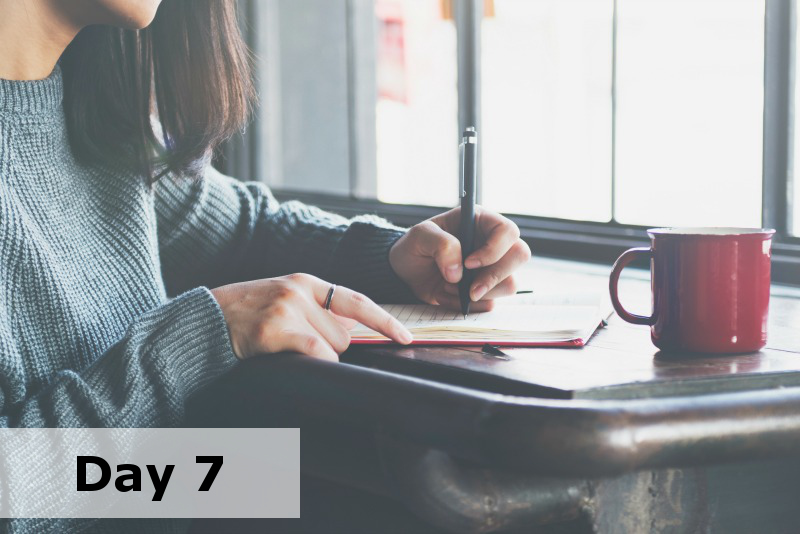 Practice the attitude of gratitude. This time of year really has a beautiful way of reminding me of all the wonderful things I have to be grateful for. Take time to be mindful and give thanks for all things in life, better yet write down what you are grateful for and this time next year look back at all of the wonderful blessings that came to you in 2017.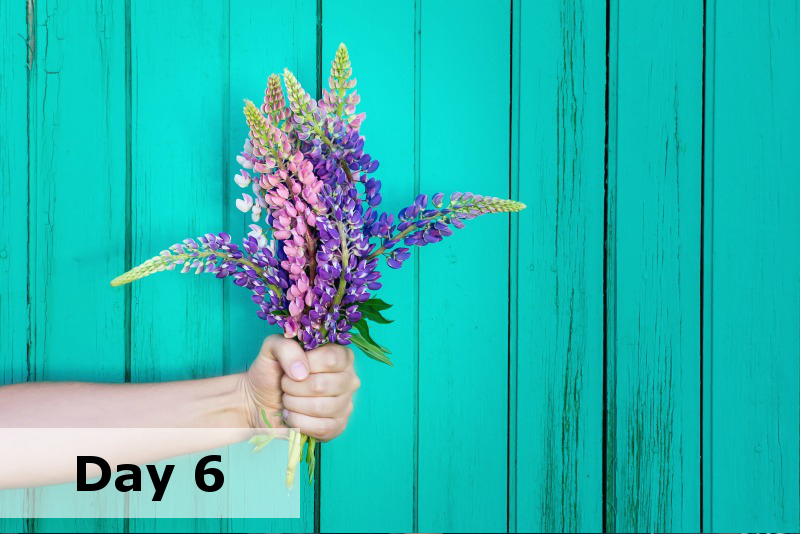 Do a good deed. It is after all the season for good will. Why not buy a loved one some flowers, make a colleague a cuppa or do some charitable giving? Not only is doing a good deed good for the soul but it might just help earn you some brownie points for Santa's good list!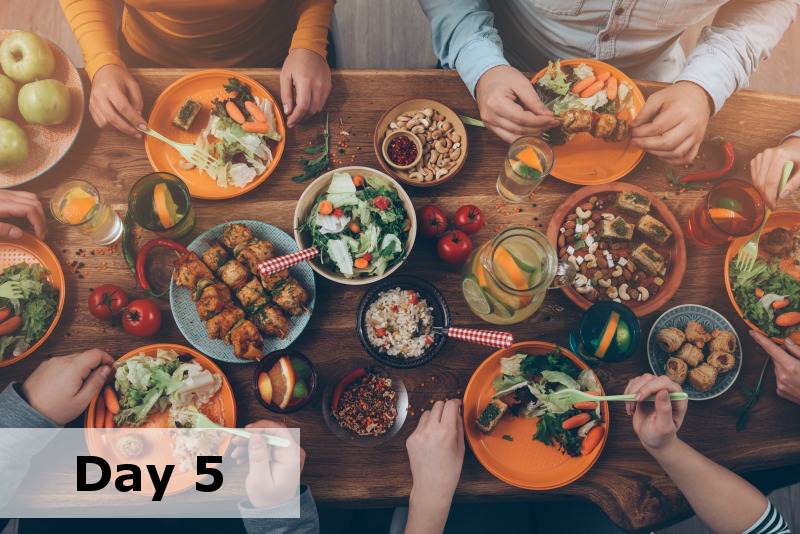 Bring a dish. Turn up to social events and gatherings armed with a delicious-as-it-is-nutritious sharing treat, such as sweet potato wedges or raw chocolate brownies, and you'll fool even the most indulgent of taste buds. This way even if everything else on offer is unhealthy you have something yummy to fall back on!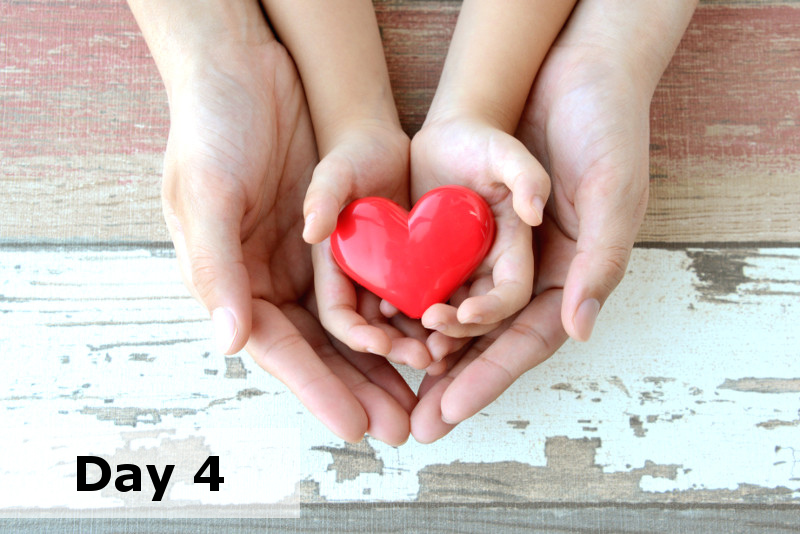 Be mindful. This is the perfect time to practise mindfulness and to be present – after all, it is the most wonderful time of the year, why wouldn't we want to be present for every precious moment spent with friends and family. Leave the stresses behind and allow yourself to enjoy this time. Eat mindfully, enjoy all the festive season has to offer without going off the rails.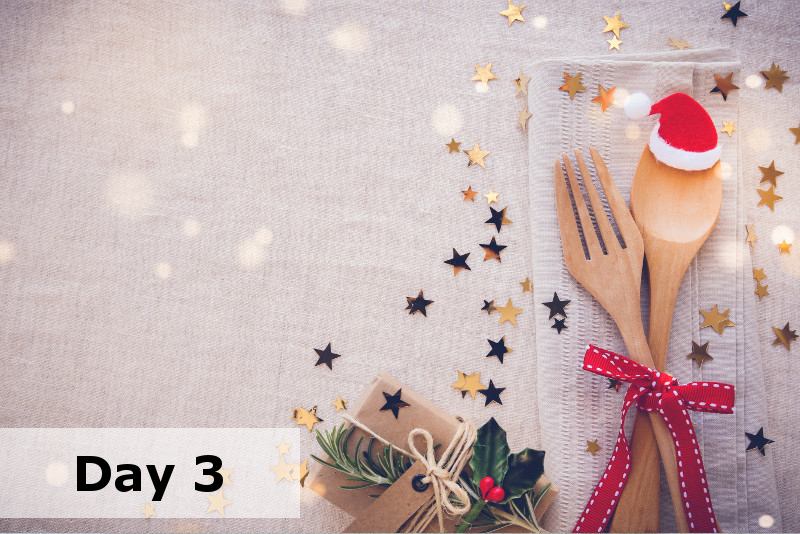 Don't arrive hungry. It's so easy to make decisions you will later regret if you arrive to the party with a ravenously hungry beast growling in your tummy. The mince pie you could have indulged in mindfully and really enjoyed turns into ten mince pies scoffed down in one fowl swoop, washed down with some egg nog for good measure. Make sure to eat well throughout the day, have protein with every meal or snack, and if you do feel hungry before a party or festive even t grab a healthy snack to have before you get there.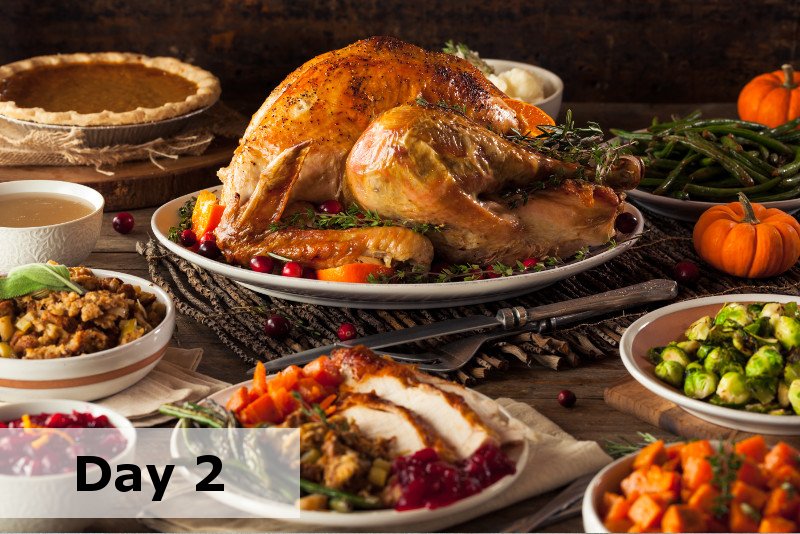 The good stuff goes on first. Be sure to pile your plates high with lots of veggies and lean, protein-packed Turkey, especially on Christmas day. Indulge in your festive favourites like the odd Yorkshire pudding or some pigs in blankets but remember not to leave too much room on your plate for them and always start with the healthy stuff first.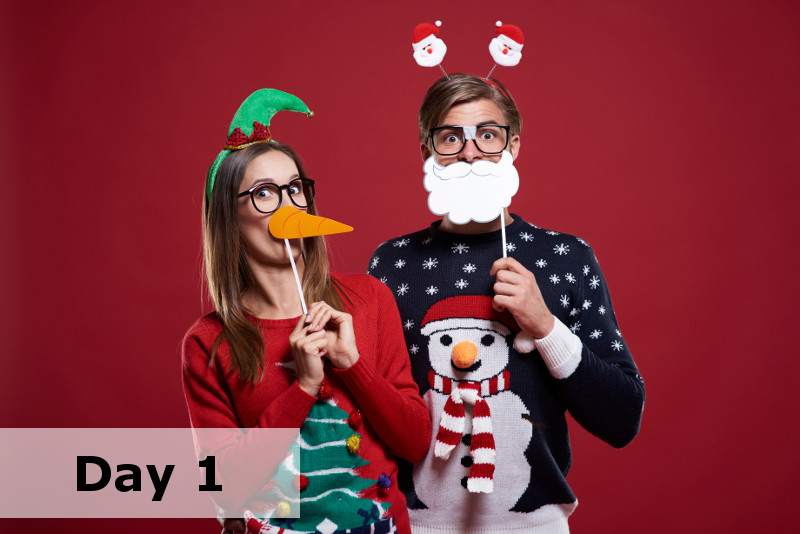 Enjoy yourself! This is probably the most important tip of all. Relax, laugh, love and enjoy this wonderful time spent with friends and family. Now that you're armed with my top tips for a healthy festive season, enjoy it to the max and don't fret about the small stuff – from the AP family to yours, have a very Merry Christmas and a Happy New Year!
Nourishing well wishes,
Angelique
Consult your doctor or health care practitioner for any health problems, and before embarking on any new health regimes, using any supplements or before making any changes in prescribed medications or food programmes.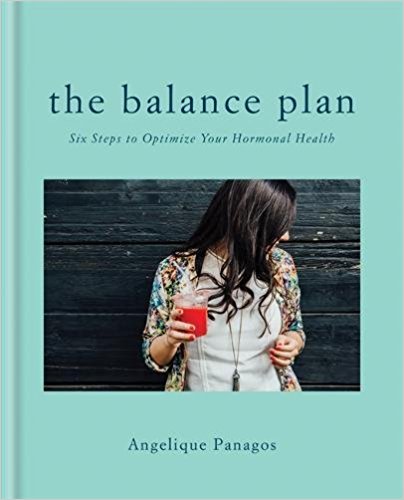 Part of my work in clinic is to identity and address the root cause which is responsible for the symptoms a client is experiencing. The most common underlying condition I see is unbalanced hormones. Once I noticed that balancing hormones leads to the reduction of so many other symptoms, I knew I had to create a simple plan to help people understand and support their hormones.
Follow the plan