Testimonials
These are some of the amazing people I have worked with in the past. Here are some more Google Reviews.
Angelique recently helped host the press launch for new wellbeing brand Hello Day. Angelique was so professional, her presentation skills and expert nutritional knowledge were second to none and combined with her humour really made our launch. Both our client and attendees were thoroughly impressed with Angelique – we would definitely use her again in the future"
Angelique's easy-to-follow programme and brilliant advice has made a real, lasting improvement to my life. I'm so thankful.
Angelique's approach to nutrition truly changed my life. I started working with her in April, after having tried (and failed) what feels like almost every diet available. After the countless attempt of losing weight, I decided to try something new and put myself in the hands of a professional. What followed was a true revolution in everything I believed about food. For the first time in years, I was not stressing out and counting calories, but started dropping pounds (almost) effortlessly! Although I hit a few plateaus and moments of low motivation, Angelique constantly provided support, words of encouragement, and useful, tailored advice. Eight months and 22 pounds later, the weight loss programme has left me much more knowledgeable about nutrition and its impact on my health. I could not recommend Angelique more: her approach to food and wellbeing have transformed not only the way I look, but how I think about my body and the nutrients that go inside it.
I was lucky enough to meet Angelique Panagos on a TV show called Sugar Free Farm. I cannot thank her enough for showing me a way of eating that is not only healthy and keeping my energy levels high but is also delicious. I have completely changed my eating habits and have cut my sugar intake by 80%. Thank you Angelique for giving me a new lease of life.
Angelique is proactive, easy to work with and supportive as it relates to my wellness and demonstrated high levels of knowledge in Nutrition. She frequently suggests ways that I can improve my health. She is a brilliant and dedicated and talks to me in a respectful manner which allows me to be fully involved in my own wellbeing. Angelique came up with a very interesting personalized programme, exactly to my needs during my pregnancy and breastfeeding and it has worked very well. I am feeling much better, have more energy, through eating a better diet. I toughly believe that following Angelique's nutrition plan contributed to have a healthy baby.
Angelique is extremely knowledgeable about nutrition and conveys this in a passionate and informative way.  She's also realistic – we can't all eat perfectly all the time.  Her presentation to my work colleagues was really well received and we hope to have her back again in the near future.
Angelique's help and support changed my life.  I went to see Angelique because I had been having problems with my sleep, digestion and headaches for a few years. I was sick of feeling below par and had been on every diet plan there is leading me to only see foods in terms of fat and calories. The first thing about Angelique that is good is that she actually LISTENS to what you want to achieve and (good or bad) REMINDS you of what you said later on down the line.  She gives sound advice, but it isn't just a case of here it is, good luck. She talks through with you how you could tweak and adapt your daily diet so that you can integrate small changes that in time amount to significant improvements to your lifestyle. In time I went from feeling sluggish, bloated and older than my years to relaxed and energised (I don't jump out of bed as yet, but I am able to get energy from foods that aren't just sugar and coffee!!). The issues that I went to her about in the beginning are significantly improved. If you are looking for friendly advice and support from someone who is totally on your side then Angelique is the person for you!
I found Angelique through a friend when I was looking for a good nutritionist.  I had exhausted all channels.  I had visited the doctor repeatedly and tried numerous diets.  With each, I gained weight and was at my heaviest on my wedding day, having to squeeze into my bespoke dress.  I had numerous symptoms other than the sudden weight gain, insomnia, dry skin, hair loss, loss of concentration, irritable; and my GP couldn't help.  Angelique's nutritional therapy techniques have meant I now sleep every night, rather than just once a week.  I have lost a lot of the excess weight, and she is helping me with my hayfever.   I have already recommended Angelique to other friends.  She's great at what she does and is warm, caring and understanding.  She has a wonderful empathy with clients and makes what could be a stressful experience a pleasurable one.
Angelique gave two talks for our customers in our in-store marathon training session. Her presentation was very informative and engaging and she gave our runners some unique and invaluable advice. We will definitely be working with Angelique again in the future.
Angelique has really helped me establish my 'Nutritional Feet' having stepped out of the industry to raise a family since arriving in Singapore. Her weekly mentor sessions were always driven with both enthusiasm and knowledge, reinforcing positive mindsets to overcome any learning shortfalls. Angelique always did her best to maximise our time, helping me build my nutrition knowledge as well as advising about specific client protocols when I needed a more experienced practitioner. She was very professional in her approach to mentoring yet the relationship was still both personal and friend based.
Being based in Singapore, Angelique was a Nutrition Lifeline for me from here. I learned a lot both about knowledge, but also about confidence and really training myself to think positively about every step of the business. Nutrition is a journey. We are all on different stages of our journey's. Having a solid mentor beside you, does really make a difference in helping take the right steps in Nutrition. Angelique helped me to better my own knowledge and the service that I then provide to my clients!
I have been working with Angelique since February this year. In this time, I have lost 2 stone, discovered that I'm dairy and wheat intolerant and my stress hormones were imbalanced.  She gave me 3 different diets that not only helped me to lose weight but also improved my wellbeing massively – my hair and my skin are visibly better and I have more energy and feel happier. I also have learnt to eat properly following Angelique's diets. I can now say that it's not that hard to follow the diet as I really enjoy the food and I've learnt to enjoy cooking again. I've always has suffered from digestive problems and since I'm working with Angelique this is part of the past, my digestion has never been so good!!  I totally recommend Angelique, she not only knowledgeable and professional, but she is really nice and understanding. She made me feel from day one that my goals were achievable and has supported me throughout my journey. I'm now half a stone away from my target and I'm totally confident that I'm going to reach it soon. But also that afterwards I'm going to keep my new found wellbeing following all that I've learnt with Angelique's diets.
My husband has suffered from digestive issues for three years and as we already live a healthy lifestyle, we didn't know what else to try. Angelique helped us to identify the possible underlying causes and has given us a solution that should help to restore my husband's gut health and all with the help of only natural supplements and diet changes. We are impressed with Angelique's knowledge and can't wait to see the results…
I really enjoyed the challenge and this has really motivated me to get back on track and I will definitely continue with the healthy eating and exercising.
My time with Angelique Panagos has changed the way I look at food.   I was frankly afraid to eat fat and needed a push to make some dietary changes.   It was critical to me that I not "go on a diet" but I make sustainable healthy changes that would optimize my health.   While not a picky eater, I was shocked at how much Angelique expanded my go to meals to include some new delicious and nutritious staples.   My cravings have been replaced with feelings of satisfaction with my meals.   I still have work to do. But I am much healthier because of my time with Angelique. Thanks!
Thank you so much for coming to visit us in clinic – it was wonderful to hear you speaking about nutrition, you are so enthusiastic and a great source of knowledge.
Angelique and Dominique are a powerful duo and work together in perfect synergy. The combination of expertise in Nutrition and Sophrology gave me a much deeper and more rounded understanding of the impacts of stress on my mind and body, which they then integrated with practical tools to help me take charge! It was an incredibly useful workshop which I'd recommend to anyone.
I thought the event was really well thought out and felt you managed to convey a lot of information and inspiration during the relatively short space of time but in a fun and relaxed way. I liked how you had a selection of healthy food and drinks too (always a bit of a nightmare when you're out somewhere and there's only coke/alcohol/crisps etc available!) and particularly enjoyed the nom bar

It was so nice to meet all the other attendees too.
Your first detox is like picking up a new sport. At first it is intriguing, you are super motivated and excited about the potential results. Then it begins… the pain and concentration that you need to have to strictly eat what you are supposed to eat/drink and NOTHING else. You have a moment of doubt and maybe even laziness, usually around the liquid days, where you wonder if you are going to be able to reach your goal and whether all this is worth it. You eventually pull through and once you are finally done, you realise how much better you feel, how much better you look and how excited you are about feeling in control of your body's health. Angelique kept saying she regularly does a detox and I always thought it was because she was way more devoted than everyone else, but I get it now. I am actually looking forward to my next one!
Angelique was recommended to me by my Pilates instructor. I had just found out I was pregnant with my third child and was determined not to put on unwanted weight. Having not lost the 'baby weight' from the previous two pregnancies, I knew it would be a challenge to do it on my own so I wanted to get some help. I am a foodie and rubbish at dieting so my ambition was to change the way I thought about food whilst enjoying it and giving my baby the nutrients he needed. My first two pregnancies I ate processed food, drank heaps of coffee, didn't touch vegetables or fish and it showed. Being slightly older and wiser I knew this time I should not repeat the mistakes of the past. Angelique had a very good approach to introducing me to healthy living, I was not overwhelmed with rules and never told off for my food "sins"! During the 7 months we worked together I have never felt so good, or for that matter, looked so good. I only put on 9kg throughout the whole pregnancy and I was energised and glowing. Angelique came up with a programme tailored specifically to my needs and it worked. My baby is now 3 months old and he is the calmest and sweetest baby. My other children were up all night crying and very fussy when they were newborns. I strongly believe that following Angelique's nutrition plan contributed to me having a happy and healthy baby who sleeps well. I look forward to continuing my sessions with Angelique post baby!
Your initiative of working together in this way is excellent and one which will surely benefit many people. There really are so many people who struggle with stress in one form or another and your approach is so healing in such a sensible and holistic way, and you compliment each other beautifully.
Angelique is full of useful tips which as a family we are able to apply on a day to day basis. Her enthusiasm for good food is infectious!
Angelique was fantastic at our Mind marathon training day. Her presentation was excellent, very knowledgeable with useful tips and explanations for what runners should be thinking about. Nutrition was a big concern for our runners, so her presentation, as well as the lovely treats she brought along, really helped their confidence. Due to over running from other speakers, we had to cut her session short which she adapted to really well and stayed behind to answer any other questions from our runners. We'll definitely be inviting Angelique back for our future training sessions. Thank you again for filling in for us last minute!
Angelique's seminar at the Asthma UK London marathon training day was engaging and packed full of knowledgeable information. Everyone in the room was brought together by her warm and friendly style of presentation. The hour flew by and we think ourselves very fortunate to have Angelique speaking at our training days. We'll keep our fingers crossed that she can join us again next year!
After 3 months of working very hard with Angelique on an intense nutritional plan the last and final part was the detox and this was my favourite bit! I loved every minute of it! I had SO much energy every day! I would bounce out of bed every morning and had an incredible amount of energy all day until the late evening.
Everyone was saying how bright my eyes were, how my skin was glowing, and my hair looked lovely too! I felt on top of the world and the happiest and the most energetic I have felt in many years! I also loved the recipes! It's not a detox! It's a delicioustox!!
I now use a lot of the detox menus in my everyday life and my husband loved me doing the detox because he also felt great eating the same meals. He asks me to cook lots of the amazing recipes from the detox menu now.
I never ever thought I would enjoy a detox as much as I did! I would never have done one if I hadn't seen Angelique. I seriously can't wait to do another one in the New Year! It's that natural energetic high and feeling so alert and on top of the world that I am looking forward to most!!
Angelique's nutritional plan and detox has changed my life for the absolute best! She's my nutritional hero and such a caring and kind person! I would recommend her to anyone who wants to improve the way they look, feel, and regain their natural energy and body balance.
I had the privilege of listening to a talk on Nutrition by Angelique Panagos last year . I found it extremely interesting, clear and and informative. Angelique is extremely professional and knowledgeable  in her field, and I instantly wanted to know more so booked a 1:1 session (which was also excellent!).
I found Angelique to be a very engaging and accomplished speaker at the Asthma UK training day back in February 2013. Her presentation was interesting, entertaining and helpful. Due to other speakers overrunning, it was necessary for her to curtail her talk. She adapted to her new requirements with ease and still managed to get across lots of pertinent information without the audience feeling bamboozled by it all. The Q+A after confirmed just how knowledgeable she was about nutrition and all that surrounds it. Her passion for nutrition shines through and her expertise instills a confidence from her audience. Book her now.
Angeliques passion and knowledge in Nutrition truly reflects in her consultations. You go away knowing you are in safe hands and that you will be supported in whatever your nutrition goals are.
Angelique gave a truly fantastic talk to our London Marathon Runners earlier this year. Angelique is incredibly knowledgeable with all things nutritional, and provided invaluable information and advice about diet and nutrition during marathon training as well as before, during and after the race. She has been an absolute pleasure to work with and we look forward to working with her again next year.
Thank you very much for a most entertaining and informative session today. I have received very positive feedback from people who attended. My own session I found really useful as well and look forward to the follow-up.
Angelique Panagos was a brilliant find on my journey to better health. I appreciated her extra email support while I embarked on one of her recommended detox plans. She has a thorough knowledge and access to quality products that she has researched for her clients which was very helpful.
I went to Angelique through a website and was a bit nervous at first because let's face it, you never know what you're going to get! My worries were quickly laid to rest though, as Angelique demonstrated a vast knowledge in her subject, the all important ear for listening and a compassionate response. After completing a cleanse and detox programme I felt a huge lift in energy levels and this has now left me with a burning desire to conquer my sugar addiction once and for all, for life! This is my next adventure with Angelique.
My first visit to Angelique was 5 months ago and in that time she has transformed me into a much healthier & flexible person. I had been suffering from arthritis and digestive problems and was in a very inflamed condition. After a couple of weeks on the programme she devised for me I started to feel a whole lot better but could not believe the way I looked. My skin had a lovely tone to it and just glowed! We even explored which foods aggravated the arthritis. I still suffer with the arthritis but have less pain and stiffness. Throughout Angelique has been in touch emailing advice and nursing me through and I would highly recommend her to any future client/patient
Before coming to see Angelique was feeling really very tired. I have followed her recommendations for the last 3 months and am now feeling really good with much more energy. I have changed the way I eat and am sleeping better. I will continue to follow my programme!
I was recommended to Angelique by a very good friend of mine. I had just had a baby and was suffering from carpal tunnel syndrome. I wanted to lose my 'baby weight', but wanted to make sure I still followed a healthy diet.
I found Angelique to be a very professional person, but at the same time warm and welcoming. I was able to take my baby into the sessions with me which was a great help too. Angelique assessed my diet and lifestyle and spent time explaining and educating me on different foods and what effect they have on my body. She focused on my carpal tunnel and advised me on which foods to avoid to reduce inflammation, but more importantly made me realise that as I was breastfeeding I should be focusing on eating healthily and in turn the 'baby weight' should sort itself out.
I continued seeing Angelique and kept a food diary, I managed to lose a dress size and a few kilo's along the way. My husband and I continue to eat the healthy alternatives we were advised to try and feel healthier than we have ever before.
Having suffered with lower abdomen and digestions discomforts for around 10 years, I decided after many failed attempts to fix my problems and see a nutritionist.
Due to my working hours and location (live West London but work in the West End) Angelique offered to see me out of hours for convenience.
The meeting was informal yet concise, Angelique seemed to know exactly what my problems were, and how to combat them. I have since spent the last 3 months being wheat and dairy free, and have all but on one occasion (self inflicted) been problem free. My energy is almost boundless, I eat more than I ever have, and I have lost weight. Ultimately weight loss wasn't the goal, but it is a welcome by product! I can highly recommend Angelique as a miracle worker.
I have Crohn's disease and I am 25 years old. I was diagnosed with Crohn's in 2008. My main symptoms were increase in bowel movement and stomach pains. I also lost weight and became very tired. I have tried different medication to keep me in remission and away from 'flare up's'.
Firstly started off with Asacol which I tried for 6 months and saw no improvement in my symptoms so the Consultant tried me on Azathiroprine and I have had periods where I have been on Prednisone for 4-8 weeks to control my flare up.
I met Angelique about a year and a half ago when I find out that she might be able to help me with my Crohn's. As you can imagine having an illness like Crohn's can sometimes be hard to deal with and embarrassing at times but Angelique makes you at ease to speak to and it did not feel uncomfortable at all.
Firstly she had a questionnaire to fill in which gives her an understanding of the background of the illness and what you would like to get out of seeing her and what she could help with. This is great as from the beginning Angelique knows what areas you would like her to help you with. Then you have to do a food diary for a week so she can see what foods you eat and what your diet is like. Then after she has all the information she then can start to help you.
Angelique is a very kind, warm hearted lady that wants to help everyone if she could. She guided me through ways of introducing food that boosts your immune system and to give me more energy. Also different foods that help bring inflammation down, which in my case is needed.
After 3-4 weeks I saw a huge difference, I wasn't so tired and had more energy to be more active. The recipes were lovely and the foods I tried were easy to find and introduce into every day cooking. It was lovely as Angelique was always available to speak to if needed and so helpful and friendly. She has really helped me with my illness and my quality of life. I feel more confident to tackle my illness, feel healthier and happier with my life.
I would defiantly recommend Angelique and have done since and I truly believe she has made a big improvement in my quality of life.
I had been experiencing unexplained stomach pains and uncomfortable symptoms after eating for some time. After numerous visits to my GP, resulting in 3 courses of antibiotics, I turned to Angelique for help. She reacted to my problems very promptly with incredible understanding and willingness to help. Angelique organised a home test for me to do which showed that I had a low level stomach acid and was finding it hard to digest foods. She questioned me about my current diet and lifestyle and explained which foods could be causing my symptoms.Angelique recommended natural medication in the form of supplements, which helped me to digest the food and she worked out a diet plan for me to follow. She was so well organised that she was able to give me the supplements that I needed the following day while I was waiting for the ordered stock to arrive.
On the same day that I took the supplements and started to follow the diet I felt a massive relief as the pain started to disappear including the intense uncomfortable systoms I had been experiencing after eating. I was never aware of the effect that cetrain foods could cause as my body could not cope that well before. Thanks to Angelique I have realised that I always had some digestion issues caused by eating wrong food. She made me aware of foods I should avoid and which to increase.
I am very grateful to Angelique as now I feel to be more in control of myself and will continue to follow the suggestions while I still get to enjoy great food with just little sacrifice but a lot of reward.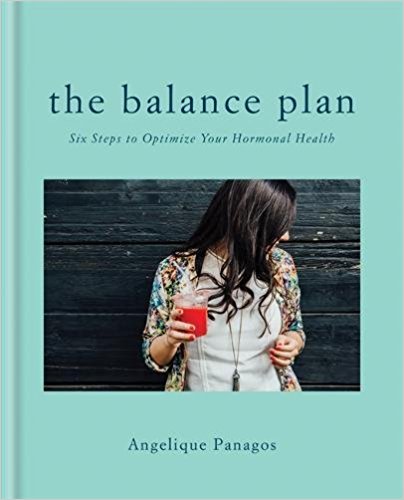 Part of my work in clinic is to identity and address the root cause which is responsible for the symptoms a client is experiencing. The most common underlying condition I see is unbalanced hormones. Once I noticed that balancing hormones leads to the reduction of so many other symptoms, I knew I had to create a simple plan to help people understand and support their hormones.
Follow the plan